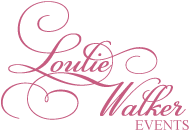 About Loulie Walker Events
Loulie Walker Events is a full-service special events firm providing bespoke planning and event production.
Offering an array of tailored services, we orchestrate memorable occasions extending beyond conventional standards. Whether planning a sophisticated affair or fabulous fête, we tell your story, reflecting your individual style and sensibilities.
Clients are expertly guided through the detailed processes required by exceptional events. Our extensive network of premier venues and vendors unlocks a world of creative potential be it for a local or destination affair. Our approach of close collaboration between client, planner and vendor team elevates the art of refined entertaining.
Our industry reach, precision planning and seamless execution are our standard. The result is always timeless and unique - events honoring tradition without being traditional.
Established in 2001, Loulie Walker Events is recognized globally for our ability to blend precision and talent with creativity and style.